If there's a lesson to be learned from the recent treatment of Luis Suarez, it's that the truth will always out.
In a nation that has enjoyed the luxury of relative freedom for decades, it sometimes takes the right people and events to come along to administer a jolt of reminder as to what the value of truth really is. The right to defend oneself is all the more precious to those that have been forced to live without it.
It could be said about Uruguay that in the decades approaching 1985, it's culture had been shaped by a torrid history. It's equally true to say that in the years since then, it's history has been formed by the vibrant culture of it's people.
When Alex Ferguson ranted about the Uruguayan people at the 1986 World Cup

,
barely twelve months had passed in which they had been free from the military, dictatorial rule that had gripped their society since 1973. As Ferguson slandered the nation, it was only just beginning to put behind it a government that regularly used torture to silence voices of dissent, and it's current President had been free from captivity, for just a few short months.
That President is José Mujica. And when your character is endorsed by Mujica, it's the endorsement of a head of state who is also an experienced and principled man.
He's a leader that first rose to notoriety as a member of the armed Tupamaros National Liberation Movement, of which he later became the head, and he was active as a guerrilla fighter during the 1960s.
Following the 1973 military coup in Uruguay, Mujica spent long periods incarcerated, escaping on several occasions. By the time democracy was finally restored to the country in 1985, Mujica had spent a total of 13 years in military prisons and had been shot six times. Two years of the captivity he suffered, were famously spent in solitary confinement - at the bottom of a disused well.
José Mujica
High office has not tamed the freedom fighter in Mujica. He donates almost 90% of his state salary to causes that include the promotion of democratic representation, and the provision of housing for homeless people.
The man who holds the power to declare war on behalf of the Uruguayan people has dedicated an often risked life to the pursuit of principles of fairness. Upon his election in 2010, he was required to provide detailed accounts of his finances. The audit revealed that his only asset is a 1987 VW Beetle. Also at this time, he waived his right to the presidential palace and Mujica, a vegetarian, lives on his wife's farm on the outskirts of Montevideo.
When José Mujica speaks of injustice and comments on character, people should take note.
"There is solidarity with Suarez. Suarez is not a racist and never will be"
José Mujica, speaking to Uruguay's M24 Radio station yesterday.
"There is nothing racist"
"Some do not understand"
From Mujica's interview with the Uruguayan newspaper, Búsqueda.
Those words will no doubt be a comfort to the man that the president also referred to as "humble". Suarez has maintained his innocence at all times since the accusation by Patrice Evra and throughout the often manic media fallout.
But despite Mujica's undoubted credentials and reputation for maintaining his integrity at lofty heights, I find it significant to hear echoed in his words, the same sentiments I've been hearing for weeks while running this blog, in the messages I've received from many other Uruguayans..
Not one that I've conversed with, has been able to reconcile the reality of Uruguayan Spanish, with the interpretation of the language-related evidence at the FA hearing. And its on language more than any other aspect, that the case should have hinged.
Suarez's National team captain, Diego Lugano, also stated his belief in Suarez's innocence yesterday.
"Keep in mind that England is a country historically colonial and racism is very delicate, but we know that has nothing to do with the relationship between Luis and the United player"
"(Suárez) has gone through a few months he did not deserve".
"All of us in football know it's a big circus. For what he did on Saturday Luis must have balls. He followed his convictions"
"We live in a democracy and if you do not want to greet someone, do not greet them."
No matter how determined an individual may be to ignore the collective voice of Uruguay, surely it's impossible to believe that any head of state - never mind one who spent over a decade in prison, and two years at the bottom of a well for his beliefs about fair representation - would put their reputation behind a man, unless after investigation, they believed the man to be innocent of the charge of which he was accused?
Lugano, Mujica and the many Uruguayans I've spoken with about the case, all seem to base their assertions that Suarez is innocent of racism, on a perception that there's been a failure to acknowledge or to understand their language.
Suarez himself alluded to this after the accusation was first levelled at him. He referred to the term that he used as being
"...something that Evra's own team mates call him"
. It's a term that Suarez has never denied using, that seemingly every Uruguayan on Earth, including the President, is telling us is not an offensive or racially demeaning term.
Earlier in this blog, I included a report in which a Liverpool supporting Language Professor gave his own opinions on the analysis of the language evidence during the hearing.
This is a link to that section of the earlier report.
Indeed, contrary to seemingly popular belief, the experts used during the FA hearing didn't contradict the opinions of Uruguayans either. Below is the part of their reported findings that deal with Suarez's own testimony of the language he used on the day.
190. Given paragraphs 188 and 189, Mr Suarez would not have needed any further sense of familiarity to use the word "negro", which is to say how well Mr Suarez knew Mr Evra is not of particular importance; in Rioplatense Spanish the use of "negro" as described here by Mr Suarez would not be offensive. Indeed, it is possible that the term was intended as an attempt at conciliation and/or to establish rapport (see 175 above).
191. The question "Por qué, negro?" as transcribed in Mr Suarez's interview sounded right linguistically and culturally and is in line with the use set out by Mr Suarez when referring to Glen Johnson; Mr Suarez was also correct in highlighting that "negro de mierda" would be a clear racial slur.
194. The experts concluded their observations on Mr Suarez's account as follows. If Mr Suarez used the word "negro" as described by Mr Suarez, this would not be interpreted as either offensive or offensive in racial terms in Uruguay and Spanish-speaking America more generally; it is being used along the lines of paragraphs 172, 173 and 175 above.
In a case where there existed an unfeasible lack of any camera footage of what Evra claimed had been a sustained and prolonged abuse, the lower burden of proof required in FA hearings enabled the panel to reach a verdict, that was based only on one man's word against another's. For this reason, the FA asked the language experts to prepare two separate opinions; one based on each player's testimony.
In reaching their final judgement, the panel opted to accept the version that corresponded to the testimony of Evra. They made this decision, despite the Fa experts telling them that the language that Evra attributed to Suarez did not match the Spanish used by people in Uruguay, and despite Evra relying on his own interpretation of a language foreign to him, which as a Frenchman, his limited knowledge of is based on the version of Spanish used in Europe.
Many Uruguayans, and all of the Liverpool supporters that have bothered to look beyond the FA report and the superficial media interpretations of it, are bothered by what's perceived as hypocrisy on the part of the FA, the press and the various anti-racism organisations that have waged a campaign against Luis Suarez in the name of eradicating intolerance. What seems to irk football supporters in Uruguay, apart from the technical short comings of the case, is that the FA embarked on a quest against intolerance, whilst making a conscious decision to ignore Suarez's own cultural origin.
It's the ramifications of that hypocrisy which make me ashamed of our Football Association. Once again, an insular, xenophobic attitude to cultural diversity is costing us dear. In a grandstanded effort to appear to be more anti-racist than Sepp Blatter, the FA have ended up portraying this country as an arrogant, objectionable island full of spoiled cretins, to nations overseas.
The fight against racism in English football currently looks a fairly hollow one from where I'm standing.
The FA, in the process of hearing a case of alleged racism, denied a man the right to reference his ethnicity and cultural background for the purposes of defending himself, purely because he was on English soil. They sent out a message to the world that as far as the governance of English football is concerned, what's foreign is irrelevant and unacceptable.
They rubbished the concept of multiculturalism, and in doing so they terminally undermined confidence in their ability to conduct the fight in the future using similar systems, personnel and structures.
What further unsettles those that have cast a critical eye over the proceedings and the resulting report, is the way that the unfair condemnation of the original verdict has been amplified by large sections of the domestic media.
There seems little doubt that if Suarez had been afforded the consideration that his nationality, and national language deserved, a competent press would have been crawling all over things, asking questions on behalf of a public that needs effective methods of dealing with racism in every branch of society, including sport.
In pushing a politically correct ideal, for the purposes of a commercially obsessed agenda, the tabloid media have gotten things terribly wrong. In terms of how we're perceived as a nation, and how we exist as a nation, we're far worse off for that.
Too much to expect maybe from the elements of the press that still go to print with "a negro" and probably going too far to dream about a day when talkSport gets off it's lobotomised high horse of sensationalism for long enough to do some actual journalism for once, but is it too too much to ask that more than the very few that did, question what's an extremely shaky FA system for discipline, and one that's definitely not fit for the purpose of dealing with serious issues like racism?
The FA, the media and the organisations tasked with the eradication of racism from sport; sort your selves out. Because the public criticisms of a foreign head of state are infinitely more embarrassing and damaging to the cause of anti-racism, than a fairer FA process and a measured, informed media response ever would have been.
Nacional supporters. The use of the word eggs, equates in slang terms, to the use of the English word "balls"
That's really where the axe fell. The verdict was based on the fact that the panel, in deciding to take Evra's word over Suarez, ignored the fact that in Uruguay and ergo in Suarez's dialect, what he said wasn't offensive or a racial slur.
It's primarily why the people of Uruguay don't accept the verdict, and why they know that Suarez is not a racist, or guilty of racist abuse.
Nacional players in Uruguay last night
What the visual support in Uruguay seems to illustrate, is that it's citizens feel that the language that Evra attributed to Suarez, was not the language a Uruguayan would ever use. The experts from the FA panel, and our own Uruguayan professor reinforce that view.
It seems to follow that the solidarity declared by the President of Uruguay is also based on this rejection of Evra's testimony, and rooted in a belief in the legitimacy of Suarez's account.
Whilst the president stopped short of calling Evra a liar, or suggesting that his account might be fake, he did mention exaggeration and it's difficult for anyone to be able to believe, in finding Suarez's testimony to be the only one that makes sense, that Evra could have been accurate. That in turn leads a person to conclude that he either lied, or misunderstood and refused to retract his claim when that became apparent.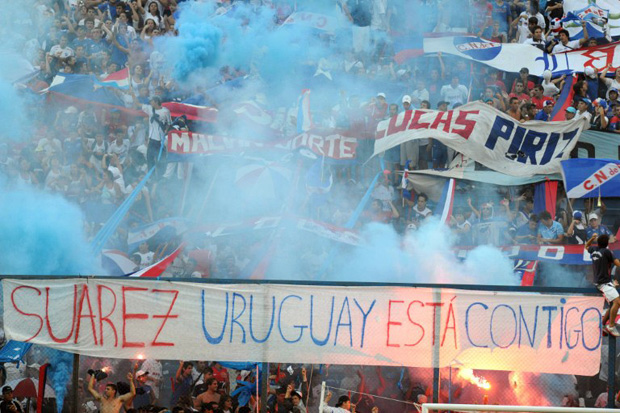 Nacional supporters at last night's match "Uruguay is with you, Suarez"
"Nacional is always with Luis"
The supporters of Nacional last night, amid full-blown displays of their belief that Suarez is innocent, appeared to offer none of that presidential pulling of punches. They clearly believe that Evra's account represents a very unlikely scenario. The message in many of the banners is that Manchester United, at the hands of Alex Ferguson and Evra, has reaped as much benefit from what are believed to be lies about a Uruguayan, as it possibly could.
Nacional supporters wearing Suarez masks, last night.
"Mr Ferguson, wash your mouth out before talking of Suarez"
The Uruguayan nation and the Uruguayan president, put the gravity of their support behind Luis Suarez this week.
Uruguayans know Uruguayan Spanish best. Presidents don't often commit in such plain terms without prior analysis.
Even for an FA panel so arrogant that it saw fit to discard the opinion of experts in South American Spanish and use one man's word against another for the purpose of forcing a politically pleasing verdict, that is one loud, collective Uruguayan voice and it must be hard to ignore.